CodoniX EHR for Pediatric Urgent Care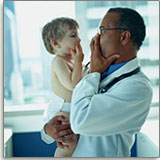 EHR Designed for Pediatrics
Specialty Pediatric Hospitals have unique emergency department requirements. Most ED Automation Systems are designed for generalized hospital emergency departments and not for the complex and specialized needs of pediatric hospitals. CodoniX has developed a version of its award wining Emergency Department Automation System specifically for Pediatric Hospitals. Developed in conjunction with one of the leading pediatric hospitals in the country, the CodoniX system provides Triage, Nursing and Physician documentation, an electronic tracking board to monitor a patient's location and treatment progress during the visit, an electronic order entry system (CPOE) for labs, drugs and procedures with automated retrieval and display of results, and electronic prescription writing with complete pediatric dosing and safety protocols. A narrative chart with time line is developed during the visit and a complete coding summary is produced at disposition using a CMS audit to ensure proper billing.
Complete EHR functionality for Pediatric EDs
The CodoniXnotes Pediatric System allows physicians and nurses to electronically track patients, input orders and view lab results, and completely document all aspects of care during a child's visit. It is based on a knowledgebase specifically designed by E.D. and Pediatric E.D. physicians and clinicians to cover all possible encounters in a pediatric E.D. In addition, it includes a JCAHO compliance package and the ability to track an extensive amount of outcomes data that is so important in quality assurance analysis or research. The CodoniX system is perfect for high volume Children's Hospitals which specialize in teaching and clinical research and is being used in pediatric EDs that see more than 70,000 children per year.
Meaningful Use
CodoniXnotes is certified for Meaningful Use in a hospital environment. It has full ONC-ATCB Inpatient certification which means you are eligible for up to $64,000 per ED provider in federal EHR incentive funds.
The CodoniX ED application is running in hospitals around the country and is licensed by McKesson as part of their Horizon Emergency Care product. Hundreds of ED physicians and nurses use it every day and nearly ten million patient charts have been produced. Watch our demonstration and training video and then contact us to it try it. You can be up and using a our ED tracker board in minutes with no obligation. For a complete list of what is offered and what additional services and functionality are available see our installation check list. To sign up to use our demonstration site and to receive a quote for your ED contact us at codonixsales@codonix.com or call us at 800-495-7270.